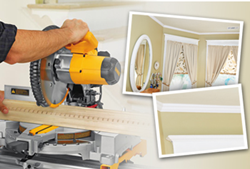 Woodcraft offers homeowners tips for using crown molding to achieve dramatic visual statements in home décor.
Crown molding, long a popular element in upscale home décor for walls, windows, doors, and cabinets, is gaining popularity as homeowners use social media websites for inspiration and to share ideas. Woodcraft offers tips for tools and materials a homeowner will need for crown molding projects.
Although crown molding is generally identified as trim for the area where a wall meets the ceiling, molding is used for many other home décor applications. It creates an appealing visual element when used at chair height along a wall, sometimes with thin vertical pieces attached to accent a wider area. Molding also serves as an attractive window cornice or as a frame for a wall-hung flat screen television or vertical mirror. The possibilities are only limited by the homeowner's imagination and finances.
"Crown molding is an inexpensive approach to adding beautiful detail to a home," Woodcraft national power tool sales manager Andrew Bondi said, "and Woodcraft is the go-to source for tools and supplies for molding and trim projects." Bondi speaks from experience, having recently installed crown molding throughout his house.
Before lifting the first piece of molding, beginners (and maybe others) will want to do some research about molding and installation techniques and tips. "Cutting and Installing Crown Molding," a DVD by Jim Heavey, and "Crown Molding & Trim: Install It Like a Pro!," a book by Wayne Drake are good resources.
A miter saw, like DeWalt's 10″ Single Bevel Miter Saw, is essential for cutting crown molding joints. To make the process easier, Woodcraft recommends using a cutting jig with the miter saw – either the General Tools EZ Pro Crown King Crown Molding Jig or the Kreg Crown-Pro Miter Saw Guide that features a bonus measurement transfer angle finder. If your project involves a coped cut, Woodcraft stocks Eclipse Coping Saws and Gröz Coping Saw Frames.
"Remember to protect your eyes. Pick up a pair of SAS Safety Glasses before you begin your project," product manager Jessica Douglas said. "The lightweight glasses can be worn alone or over eyeglasses."
READ MORE HERE