Despite summer having only officially started six days ago, Billings has been feeling the heat since early June. Now formally barbecue season, it's time to take it up a notch and add a little luxury to your outdoor living space.
It's a safe bet that your kitchen can't get any hotter. With every window wide-open – or the A/C fully cranked – you're still working up a sweat and can't afford to let it drip onto your favorite meal. Dinner must be made, however, and the patio grill just doesn't have the counter space for preparing a dish of that caliber.
With the help of local experts who specialize in fire pits and outdoor kitchens, your backyard can soon transform into a cozy-yet-functional outdoor oasis.
Riding the heatwave
Tim O'Brien, general manager at R and T Services describes the almost-limitless possibilities for cooking al fresco.
Outdoor kitchens can start simple with a natural gas line connected to a grill and grow more opulent with customized features such as patio heating and appliance storage.
"People want to extend the amount of time spent outside as much as possible, and outdoor kitchens allow for that," said O'Brien.
In the planning stages, a contractor meets at the homeowner's residence to look at the space dimensions, see which direction the home faces and address potential weather-related issues that come with certain landscapes.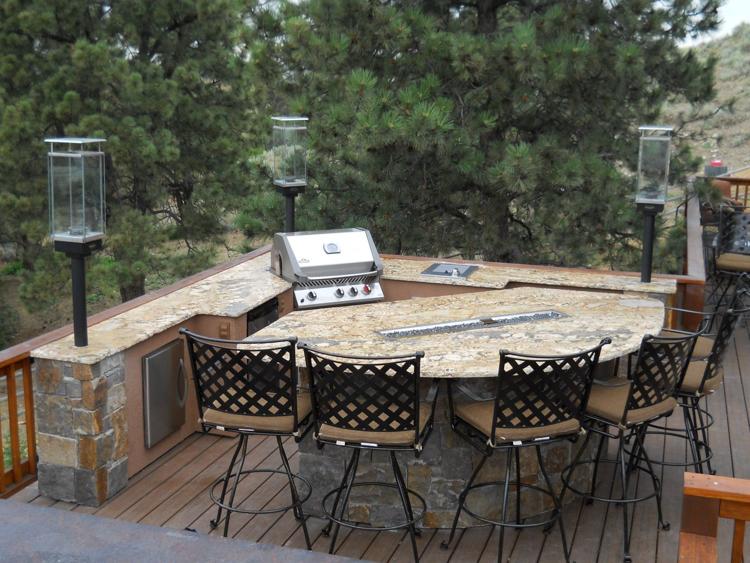 "Maybe the grill area needs to provide a wind block," O'Brien said. "Or perhaps electrical and gas lines are required and concrete needs to be poured."
The construction timeline depends on the scope of the project, but O'Brien estimates that a grill island takes four to six weeks to finish whereas larger projects, such as concrete or gas and electric lines, likely take a couple of months to complete.
"The process is as long as it needs to be," said O'Brien regarding the importance of reaching a point where the homeowner is comfortable with the proposed layout.
From cabinetry and countertops to weatherproof materials and storage capacity, outdoor kitchens often come custom-made to your specifications.
FULL STORY HERE