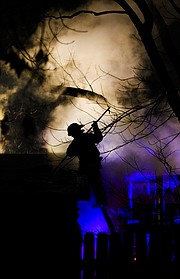 Winter brings more house fires than any other season. Last week alone, there were three home fires in Lawrence.
The good news is that residents can prevent fires by taking a few precautions, especially in the coldest, driest time of the year, Lawrence-Douglas County Fire Medical public education specialist Richard Bull said. Winter structure fires have less to do with the weather and more to do with five mistakes people make between December and March, Bull said
1. Improper use of supplemental heating devices
Items such as space heaters can cause fires when used around flammable material, Bull said.
"Space heaters should be three feet away from anything flammable," Bull said. "Put it on a kitchen floor away from carpeting or other items."