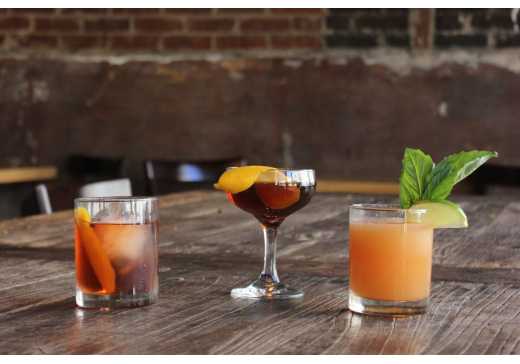 Chattanooga may be a relatively small place, but its restaurant scene is as lively and soulful as that of a much larger city. From delicacies to dives, the range of eateries in Chattanooga is as fascinating and colorful as the city itself, and each restaurant offers its own special flare. If the thought of vacation instantly brings to mind visions of great food at unique restaurants, this is the place for you. Here are a few of our selections, grouped into categories, for a foodie visiting the Scenic City.
Fine Dining
Whitebird
Located inside The Edwin, Chattanooga's new luxury hotel, Whitebird aims to bring thoughtful updates to Appalachian classics. The combination of amazing food, exceptional service, and incredible ambiance is what sets Whitebird apart. Partnering with local producers and artisans allows us to ensure that your dining experience includes ingredients at the peak of their freshness and flavor regionally produced.
Alleia
A date night favorite among Chattanoogans, Alleia uses local, seasonal ingredients to create traditional Italian dishes. With seven types of housemade pasta, flavorful brick-oven pizzas and an array of signature cocktails, Alleia is delightful and inviting from the first sip to the final forkful. Its atmosphere blends modern design with the rustic feel of an old world trattoria for a chic and cozy dining experience.
Bridgeman's Chophouse
Looking for a high-end steakhouse experience? Located in The Read House, a hotel that was founded in 1872, Bridgeman's Chophouse is known for its wet- and dry-aged prime beef, seafood, and raw bar. You'll find an extensive wine list plus lots of cocktails to choose from as well. With superlative service, Bridgeman's is white-tablecloth dining at its best, and if you're looking for a place to celebrate a big event, this is an excellent option.
Brunch
STIR
At STIR, we are all about the inventive, the artisan and the local. Using purified, artisanal ice that has been painstakingly hand-cut to complement each one of our imaginative craft cocktails, STIR is bringing an intense focus on artisan ice and craft cocktails to the Scenic City's cocktail and dining scene. STIR uses the freshest ingredients available, refreshing food and beverage menus regularly to highlight seasonal delicacies and keep the creative juices flowing. Every bite and every sip at STIR is crafted daily from scratch, using ingredients predominately from farms and vendors within 100 miles of Chattanooga.
Food Works
With a variety of items to choose from, Food Works menu focuses on "progressive southern" cuisine with global influences showcasing our culinary team's ability to put new spins on old classics. The spacious bar features an array of imported, domestic and craft beers along with an extensive wine list as well as specialty martinis. Enjoy a cocktail inside or on our patio with family and friends before indulging in a delicious meal.
Frothy Monkey
Back across town inside the Chattanooga Choo Choo, Frothy Monkey is a beautiful cafe-style eatery at one of the city's most popular destinations. Its delicious coffee, scrumptious pastries, and robust breakfast bowls and sandwiches make it a wonderful brunch spot any day of the week.
Around the World
Totto Sushi & Grill
Chattanooga's go-to sushi restaurant is conveniently located on Northshore and offers fresh specialty sushi rolls and a wide range of Asian dishes like udon noodles, katsu, and sashimi. When you go to Totto, make sure to ask about daily specials like half-priced sushi on Tuesdays and half priced-saki on the weekends.
Embargo 62
For some of Chattanooga's most uncommon cuisine, visit Embargo 62 and enjoy luscious Cuban and Latin American classics like empanadas, fried plantains, and classic Cuban sandwiches. Styled with Cuban inspired decor with an open-air patio giving you a glimpse into Havana. First come first serve only, reservations are not accepted. Embargo '62 is your vacation in your own backyard.
Il Primo
Widely regarded as some of the very best Italian food in Chattanooga, Il Primo's dishes are rich, inviting and elegant. Guests can choose from eight signature pastas, artfully prepared fish, or traditional Italian chicken dishes. For a truly European experience, don't skip the aperitif and charcuterie selection to begin your meal.
Southern Style Favorites
Bone's Smokehouse
Bone's Smokehouse is more than just a BBQ joint; we pride ourselves on being an authentic American Smokehouse. All of our meats are smoked daily in house with locally sourced hickory wood. We start with the highest quality meat, pay great attention to detail in the preparation and smoking process. We hand pull the pork just before it is delivered to your table. Our Texas Style Brisket and St Louis style ribs are hand trimmed to ensure quality. Try one of our Friday Night dinner specials like Smoked Prime Rib or Smoked Chicken Pasta for a one of a kind taste sensation. Give one of our classic Southern Favorites like chicken pot pie, smokehouse chili, smoked chicken enchiladas or chicken salad a try to discover what a delightful twist a little smoke adds to traditional favorites.
Nikki's Drive Inn
This iconic Chattanooga diner has been drawing in crowds since the 1950s, and it hasn't changed a bit since then. Known for its hand-battered onion rings and deep fried jumbo shrimp, Nikki's is as classic as it gets when it comes to old-school American drive-ins. Don't expect any frills at this legendary restaurant, but if you enjoy nostalgia and fried foods, Nikki's is a must.
The Southern Star
The Southern Star took shape from the shared vision of Rick and Nancy Adams for a restaurant coupling tasteful, fresh-daily dishes with an emphasis on southern cuisine and welcoming hospitality to match. After nearly four years of success in small-town southern Georgia, the Adamses set their sites on mid-sized southern cities and in October of 2000, they sank the Star's roots into Chattanooga's rapidly revitalizing Southside.
Sweets
Milk & Honey
Craving from-scratch gelato? Or a fresh fruit popsicle? Don't pass up the opportunity to stop in at one of Chattanooga's all-time favorite sweet shops. While Milk & Honey offers a full menu of delicious dishes all day long, it really shines for its housemade gelato, pastries, paletas, and an ever-changing assortment of treats. Trust us, your sweet tooth will thank you.
Clumpies Ice Cream Co.
There's really just no getting around the fact that Clumpies offers the best ice cream in Chattanooga. For 20 years, Clumpies has been hand-crafting dozens of ice cream flavors right here in town, and you'll want to try them all. If you happen to walk past any of its four locations, chances are you'll be lured inside by the irresistible smell of freshly made waffle cones.
The Hot Chocolatier
Wendy and Brandon Buckner started The Hot Chocolatier in 2008. As a locally-owned Chattanooga, TN based company, the couple wanted to bring their experiences – from the various cities in which they had lived – back to their native hometown. The concept of The Hot Chocolatier became a reality when Wendy and Brandon began introducing artisan chocolates, confections, one-of-a-kind sculptures, showpieces, customized favors, and corporate/wedding gifts to the public upon opening the doors of their first location within the Business Development Center along the North Shore area of downtown Chattanooga.