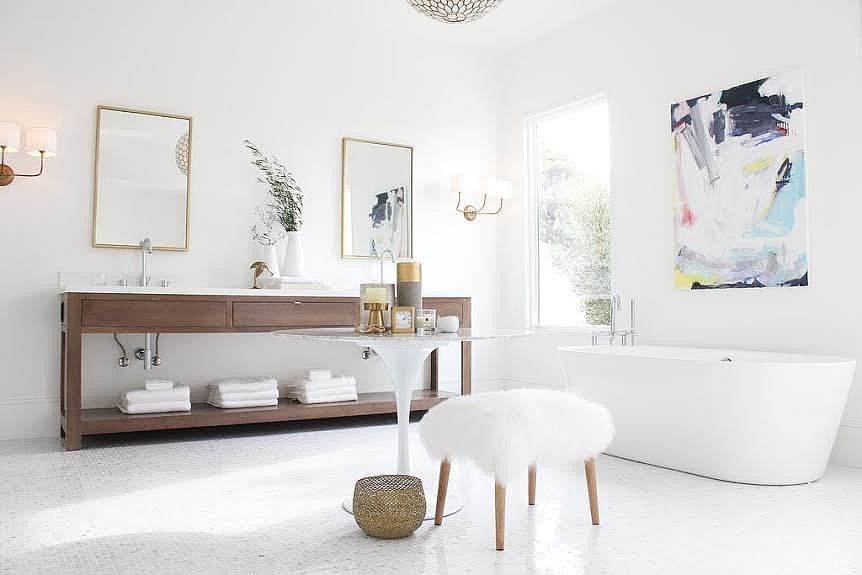 Sorry to get TMI on you, but we all spend a lot of time in the bathroom. And many things about that room — the fact that you're alone in there without distractions, the amount of fixed design elements crammed into a small space, the potential for dirt and clutter — give it the potential to look outdated quite quickly. No wonder it's consistently been the most popular home renovation project in this country.
If you don't have the $40,700 an average bathroom reno costs, though, there are still ways to upgrade your porcelain palace on your own. Here are a few great DIY tricks we've found.
1. Declutter with pretty things
Start with the easiest bathroom upgrade: organize that stuff that winds up scattered all over your counter, shelves, toilet tank, and bathtub ledge. Depending on your personality, this could also be the hardest fix to maintain. That's when you might want to try storing your most-used items in this gorgeous DIY mason-jar rack. If you have the counter space, you could also store makeup brushes in a vase filled with coffee beans (bonus smell!), cotton balls and tools in teacups and creamers, or soaps and shampoos in a metal fruit basket.