We all want a bathroom that would be a reflection of our personal style and be able to deliver the comfort we need at the same time. However, aside from that, it's also important that it has the right fixtures and amenities that are capable of providing function and value as well. Fortunately, through careful planning and choosing the right design, you can have it all.  Here are some of the best tips that could turn your bathroom remodeling dream into reality.

1. Bathroom Planner
Before you even call a remodeling company for your bathroom remodel, you should first talk with everyone who will be using the space. Try to have a discussion about the fixtures and finishes you are supposed to use and how much of a budget you're willing to shell out. As you plan for your budget, it's important to have a little extra, because you never know if there will be some unexpected problems that will increase the cost later on.
This planning would be very helpful and go a long way toward keeping with your bathroom renovation plan as you move along with the project. Once you start with the renovation, you have to know that the process could take around 30-90 days. No matter how long it is going to take, try to resist the temptation of changing your plans unless financial constraints or problems arise. Change of plans will force you to spend more and for the completion date to extend further out.
In case you're having a hard time setting a plan in place for your bathroom, speaking with a remodeling contractor and ask their advice. A professional can also offer a vision for your style, and handle the scheduling for both installers and vendors.
Choosing Bathroom Layouts
A lot of homes usually have at least one bathroom with a sink, toilet, and bathtub. Then, there are optional extras, such as the shower, and in some cases, a bidet. An extra sink is also a popular choice for most people, especially in households where the bathroom is often used by more than one person.
Customized Bathrooms
Similar to a standard bathroom, a customized bathroom is filled with a number of suite fixtures. The difference is that the final design usually has a matching countertop and built-in cabinets around a certain area of the room.
Wet Rooms
These are the type of bathrooms that comes with a shower, minus the enclosure, and the water runs away through a drain installed in the floor. That's why it's important for the whole room to be waterproofed.
En Suite Attached Bathrooms
Due to the proximity of the bedroom to one's bathroom, noise is usually an issue for most homeowners. If there aren't any windows attached to the bathroom, an exhaust fan should be installed as it can help in removing moisture. Likewise, if you want to reduce the noise made by your toilet tank while it's being refilled, then you should install a modern inlet valve.
The Powder Room
Powder rooms are usually situated on the first floor of the house and often near the entryway. These rooms are also known as half-baths and comes with a toilet and sink. However, unlike regular bathrooms, there isn't any bathtub or shower.
2. Bathroom Floor Plans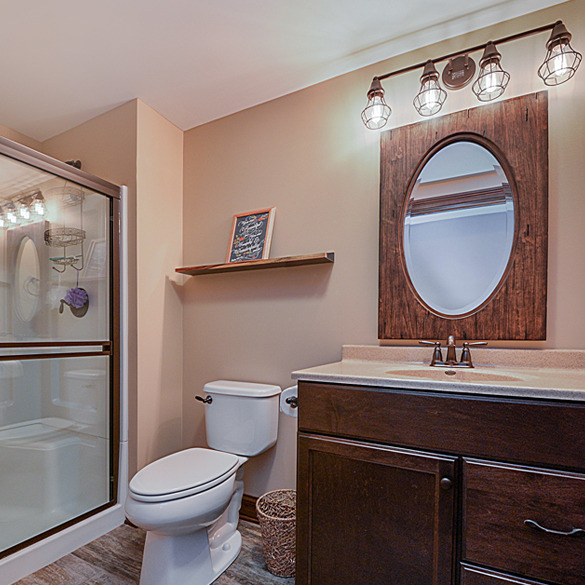 For those who are not aware, if you really want to save a good amount of money on renovation and demolition, it's highly advisable to keep the new bath's plumbing fixtures close to the bathroom's existing plumbing.
However, in case that the remodeler discovers outdated wiring or plumbing, there's a huge possibility that this professional would suggest that you gut out the old pipes and wires, which will allow the installation of the new ones, in addition to changing the locations.
If you have a limited budget and need to keep the same footprint. Don't worry, you can still give the impression that space is a little bigger through the use of some tricks specifically made for that purpose. For instance, pedestal sinks are best known for making the room look more spacious, then clear glass shower doors are more preferable than the shower curtains on tubs as this would block the light and make it seem more enclosed. Likewise, you can also consider using a big mirror as an alternative to a small medicine cabinet mirror. Doing something like this could visually double the space around your vanity area.
3. Lighting Design
Although an elegant finish on faucets would definitely make a bathroom look elegant, you'll never make a bad choice once you consider installing sufficient and luxurious bathroom lighting. Likewise, well-designed vanity lighting is capable of eliminating the shadows on faces.
A combination of LED recessed lights with wall sconces beside or over the mirror is also a great idea because whenever it's too bright, you can always install and use dimmer switches.
Overhead and Ambient
For bathrooms, overhead lighting is very important.  As for ambient options, you can always consider the use of a sunken track lighting, frosted glass fixtures, or even rice paper. Likewise, perimeter lighting is also capable of creating both soft, ambient glow, as well as useful light. It's also highly advisable to consider using pendant lighting. Something like this allows the scattering of light into the direction that it gives the illusion of a beautiful centerpiece ceiling.
4. Bathroom Ventilation Solutions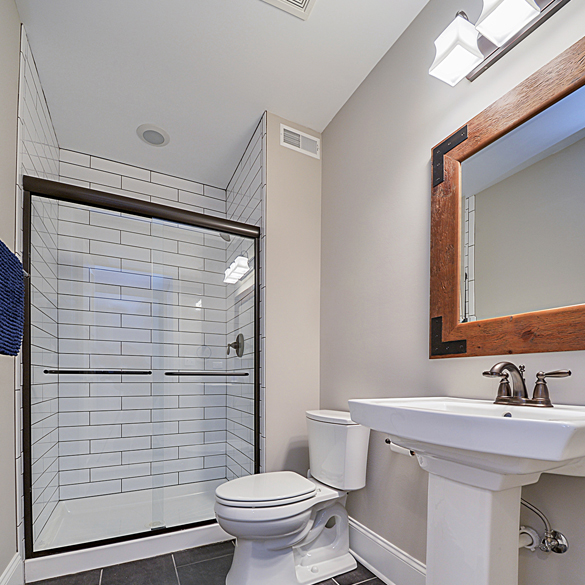 Unfortunately, when it comes to bathroom remodeling, a lot of homeowners tend to neglect this aspect. What they are not aware of is the fact that proper ventilation is very important, especially if you want to ensure that your bathroom renovation project lasts for years to come. A bathroom that's not properly ventilated could contribute to a number of problems, such as the buildup of mold and mildew. This could wreak havoc and ruin some of the expensive upgrades made in the new bathroom remodel, such as the floors, walls, and even the cabinetry.
Get a Fan and Timer
A top-quality fan is very important if you want to ensure optimum indoor air quality and it's definitely worth every penny.
Those with a steam shower or low ceiling should stay away from placing a fan inside the shower because the steam of the vapor coming from the ductwork would not circulate the air as well.
Get a fan timer and try to look for one that comes with a one-hour setting.
For homeowners who are currently in the process of building a new home, what they can do is incorporate a remote timer and this would give them the ability to be able to turn the fan on in the middle of the day or at night remotely. Likewise, you can also consider wiring in a dehumidistat, so that the fan would be able to run whenever you need it.
Those with younger kids around the house or who don't want to have the responsibility of turning on the fan timer every time, then they can consider using a motion sensor for this purpose.
Shower Panels Should Leave Room for Ventilation
Have you noticed that some glass panels don't really go all the way to the top of the bathroom ceiling? There's a reason for that, it's because a lot of experts believe that keeping frameless glass installations from going floor to ceiling allows more air circulation inside the bathroom.
A Shower Transom Would Be Good in Steam Showers
A full grand surround turns a conventional shower into a steam shower. A transom installed above the door could be utilized in a way where it would dry the shower every time you close the door. Likewise, placing the fan near the transom can also help in drawing air out of the shower every time you close the door. For those with a steam shower, it's highly recommended to incorporate a bigger bathroom fan. Don't forget to check the grout lines as well. Fewer grout joints are recommended because there's less surface area to absorb moisture.
Consider the Use of a Heated Floor
Having a floor heating system that can be laid under the tile in the shower is a nice add-on, not only is it more comfortable ambient air temperature, but the feel of warmth on normally cold tile in the morning is a nice change that you will certainly enjoy.  It's important to ensure that the heating system you're going to get can be used inside the shower. For those who are interested in this type of bathroom, it is ideal to consult a professional who would help you plan the layout.
5. Maximize the Space
Try to use all the space of your bathroom as much as possible, if your bathroom is on the smaller side, then you have to unleash your creativity in order to design the space and make it look larger. Glass doors for tubs and showers are perfect if your purpose is to open up the room, and the pedestal sinks are ideal since they occupy lesser space when compared to cabinets.  All cabinets and tower cabinets above the toilets, as well as towel racks, are perfect for those who need storage, but who don't have much space to work with.
6. Pick Timeless, Yet Durable Flooring
Porcelain, ceramic, and stone tiles definitely look beautiful and pleasing to the eyes, and they're also water-resistant choices making them the perfect tiles for bathroom flooring.
As for durability, nothing is better than baseboard tiles, and these tiles are also known for adding an elegant finishing touch.
7. Design With the Future in Mind
For those who are thinking of putting their home up for sale five years from now, then it's important to ensure that the value of your property would increase over time, consider having your home renovated for that purpose. On the other hand, if you're planning to live in your home for a couple of years, it's very important to ensure that the design of your bathroom is something you would really love and fit with your style and preferences.