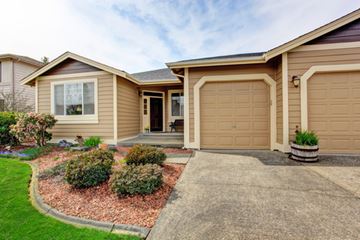 Preparing to sell your house can be a stressful time. There's a lot on the line and you want to ensure that your home will sell quickly and for top dollar. Before the offers come in, it's important to attract potential home buyers. Even though you may be preoccupied with getting the inside ready for viewings, curb appeal should never be underestimated.
Sandy Kennedy, sales representative with Re/Max Realty Services in Brampton, recommends that it is always best to think like a buyer. Try to look at your home with fresh eyes. The outside of your home is the first thing potential buyers will see, so it's important to make a good first impression. Below are five tips to improve your home's curb appeal:
Landscaping
It is astounding the difference good landscaping will make to a property's appearance. Even if you didn't have a green thumb during your ownership, a professional landscaper can give polish and shine to your property. If your property is already landscaped nicely, be sure to clean your gardens, remove any weeds, and consider planting some annuals for a pop of colour. If you are showing your home in the fall or winter, be sure to rake the lawn of leaves, shovel any snow on sidewalks, walkways, and driveways so that viewers can navigate the property with ease.
Hardscaping
Complementing your home's landscaping are hardscape structures. Hardscaping is an investment, but one that is more than worthwhile. It can come in many forms: a beautiful stone walkway, interlocking stone driveways, decks, patios, gazebos, etc. If you have a budget to invest in hardscapes, it can dramatically improve your return on investment.
Siding
Once the property is looking clean and polished, consider the condition of your home's exterior. Is your siding looking a little worse for wear? Siding that is faded, scratched, or worn from the elements can dramatically impact what buyers think of your home. Consider brightening things up with a coat of paint or power washing, or when necessary, consider replacing your home's siding.
READ MORE HERE