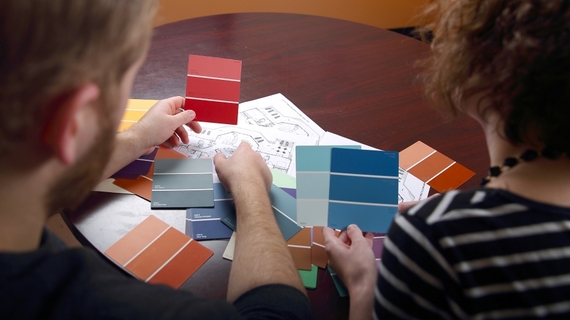 A couple's home design tastes often differ. Interior designers say these tips will help you compromise.
Sharing your life with someone is a beautiful thing, but that doesn't always mean you share the same design and style preferences when it comes to your home. Whether you've lived together for one year or 20, use this advice from highly rated interior designers to stop the fights that have kept you from painting the walls or tiling the floors.
1. Start With a Design Plan
Jodi Schavone, owner of highly rated Décor Coach in Apex, North Carolina, says to make a list of how the room has to function for each person before embarking on a design project. This will help couples and families prioritize and understand why one idea might be better than another.
Think realistically about how you'll use the space, along with whether you have a big family or like to entertain. Look through pictures online or in magazines, and talk openly about your likes and dislikes.
2. Listen To Each Other
Communicate openly, and don't forget to listen. Interior designers say the majority of their job comes down to listening to clients. Sometimes your spouse or partner might just want his or her ideas heard. Discussing concerns helps to avoid conflict, and will help you determine what he or she likes about a particular color, pattern or piece of furniture.
READ MORE HERE