There is literally nothing you can't find on the internet. However, when it comes to real estate, apart from running an internet search, you would definitely need a real estate agent when you buy or sell a new house. These agents act as a better version of the internet when you buy or sell any property. Realtors serve as a bridge between the buyer and the seller thereby helping them make better-informed decisions.
Here are a few benefits of appointing a real estate agent to sell your house: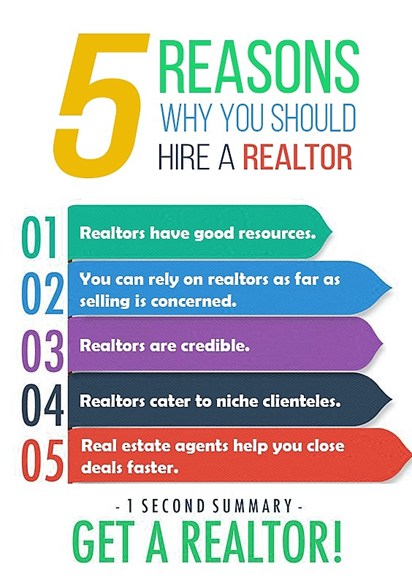 Usually, realtors have all the necessary information and updated databases of properties and real estate. If you are a buyer, you can easily get in touch with a Realtor to get your work done faster. And the same applies to you if you are a seller. When you sell your house, the consultants will give you a clear idea about the property and how much you can price it. Reputed real estate agents would have handled many dealings in your area and will have a clear picture of your locality and you property. Realtors have good resources.
As they know about almost all the localities in a specific city, you will know what the pros and cons of buying a house in a particular area are. For example, the The Evans Group will have a clear idea about a property located in Chattanooga or Hixson. If you are a seller, and you are hiring an agent, they will know how to promote your house. They will try and conceal any minor defects and will play with the house's strengths as much as possible. You can rely on realtors as far as selling is concerned.
Real estate agents know important details about any owner or buyer. They keep in touch with good sellers and genuine buyers, so when you are trying to sell a property, he may just be the right person to enquire about buyers. Also, hiring a realtor is a fool-proof method while selling a property as they know the authenticity of the buyer. Realtors are credible.
Because of their knowledge and expertise in the real estate field, realtors know the niche needs of the customers. There are some realtors who cater to clients who are first-time home buyers or people searching for townhomes in Chattanooga. Make sure you find a consultant who can cater to your specific needs if you need to sell your single family home or a farmhouse. The agent will know what type of customers to bring in. Realtors cater to niche clienteles.
Time is an important factor to consider while you look for properties. It doesn't matter if it is a residential property that you are selling. The time taken to deliver information and help us seal any deal is important for any property sale. Real estate agents are known for expediting the closure of real estate deals. Real estate agents help you close deals faster.
Realtors, although most fear them, are actually good agents when it comes to selling your house faster and for a much better cost. Find a good real estate agent taking into account his reputation and experience.