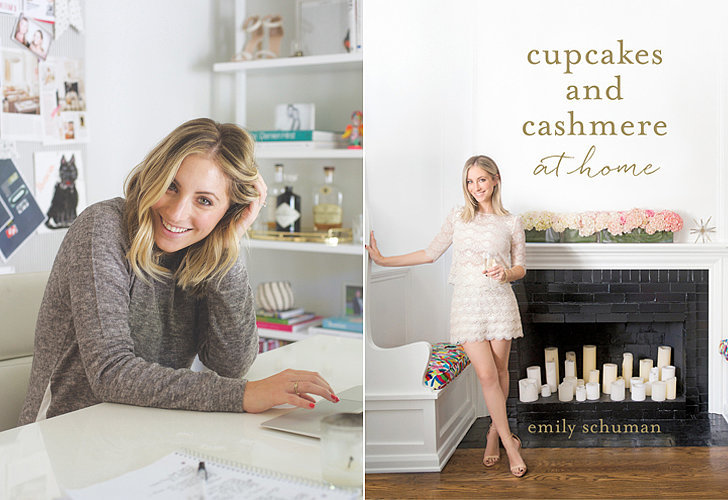 Lifestyle expert Emily Schuman doles out fashion, entertaining, and decorating advice on her insanely popular website, Cupcakes and Cashmere, which she founded back in 2008. Her new book, Cupcakes and Cashmere at Home, is a sequel to her debut tome, Cupcakes and Cashmere: A Guide For Defining Your Style, Reinventing Your Space, and Entertaining With Ease, and offers plenty for design-lovers on a budget!
In her new book, Emily shares the interior-design wisdom she's learned over the years by decorating various apartments and the current home in Los Angeles she shares with her husband and young daughter. Whether renting or owning, Emily has always prioritized finding clever and unique furnishings that don't break the bank. See her top five secrets for getting great style on a real-girl budget.
Think outside the box when it comes to what you hang on your walls. "Art can be expensive," Emily contends. "So I dip into drawings from childhood, concert posters, or mementos — like a wedding speech written by my best friends — to get framed."
Budget bar carts are a great way to make a room look fancy and formal, and they don't have to cost a lot. "They're so festive and can fit in with any home," Emily believes. "The best part is that they occupy a small footprint and are a good way to conceal an unsightly corner." Emily managed to spend only around $50 on her first bar cart, which was purchased from a flea market.
The benefits of decorating with plants can't be overstated. "Pretty plants and flowers can add inspiring splashes of color and extra texture to a room," Emily maintains. She also suggests hanging plants from the ceiling so as to not take up too much floor space.
FULL SOTRY HERE