This collection of step-by-step guides will help transform your kitchen into tip-top shape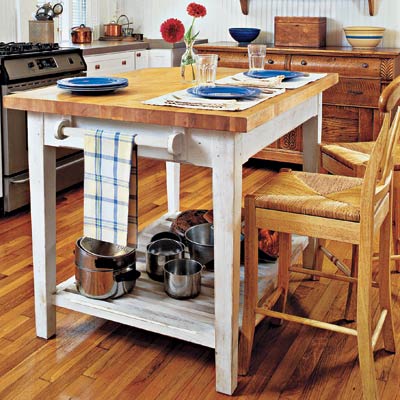 If you're going for homey and cozy in your kitchen, skip the built-in cabinet-base island and opt for a butcher-block counter instead. These thick wood-slab tops resist warping and nicks better than laminate and almost as well as stone. They're perfect for toning down the coldness of stone counters and metal appliances in modern cook spaces. Plus, you can construct a 19th-century worktable-style prep island from easy-to-buy materials.

Back in the Victorian era, the cook's room was a faraway place with exposed pipes. One way to evoke that look—sans steam heat—is to put your pipes on display with a copper pot rack. A custom-sized rack is ready in just a few hours with everyday plumbing parts. Push-together tees and elbows take away the need for messy soldering, and brass polish make the copper shine like a new penny.

Think installing a traditional tile backsplash feels a little out of your DIY league? Putting up one made from a single sheet of inexpensive solid surface material—available in a range of colors and patterns—may just be your saving grace.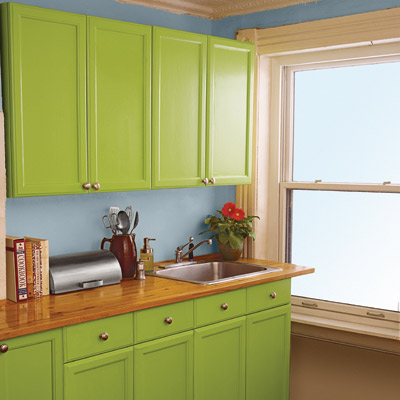 A kitchen makeover doesn't necessarily mean replacing those gloomy boxes with all-new cabinets. As long as the frames and doors are structurally sound, you can clean them up with some strong cleaner and brush on some new paint' and within a weekend take that kitchen from dreary to sunny. This transformation will brighten up your kitchen without significantly lightening your wallet.

A shiny new sink, along with a new faucet and countertop, will jazz up a kitchen as much as new flooring and appliances, and for considerably less money. These days, it isn't that difficult to install a new sink and faucet, thanks to fittings that simply screw or glue together' often without solder or torches.

Because of their strength and enduring style, many vintage iron window guards still adorn homes and beautify city streetscapes today. But for those that have found their way to salvage yards as a result of a remodel or demolition, there are myriad other ways to use them inside the house. Read on to learn how to boost storage in your cook space with a guard-turned-pot rack.

A stiff-necked kitchen faucet with a little swivel head monopolizes the back of your sink. But, a single sleek arm protruding from the sink is in style and requires one hand to perform all functions. Like most faucets, pull-downs are a snap to install. Simply twist a few fittings to bring your kitchen one step closer to the modern world.

Instead of spending, say, $5,000 on new cabinets, save some serious cash and reface the ones you have for under $1,000. It's amazing what a little veneer and some new doors can do to brighten an aging space. Both are available through woodworking companies, and some manufactures offer peel-and-stick veneer to make the task simpler.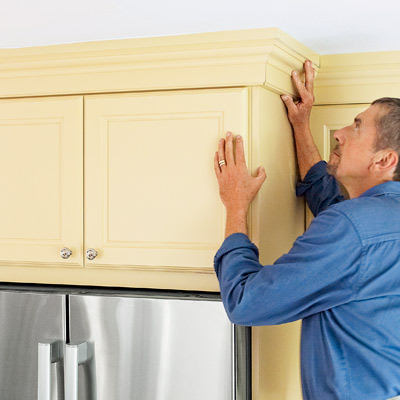 Here's a clever way to add crown to cabinets: Mount the molding on a frame and install it as a single unit. A lot of upper kitchen cabinets these days don't have enough material above the doors on which to mount crown molding. To get around that shortcoming, you can build a hardwood frame that sits on top of the cabinets and use it as a base for fastening the crown.

READ MORE HERE