Much of what I learned about small space thinking derives from observing my mini dachshund, Copperfield, and his love of cozy little areas. Yet, while he had a passion for snuggling up into corners, he expressed an irrepressible urge to run around a room in more expansive ways. Watching his spatial movements, I became acutely aware that those design elements that made Copperfield feel good about being in a specific space were very aligned to those we humans feel when we are inhabiting smaller-sized areas. We need to feel good in the homes we live in. If they are too big and we feel lost, too small and we feel cramped. How good we feel about being in our homes has everything to do with scale and proportion, for these elements create the most balanced, comfortable and harmonious living areas. They lie at the very foundation of every successful space, traditional or modern, big or small.
While the focus of this article illustrates how a small space can be made to feel larger, the reality is that most of the following ideas help make any space feel grander, lighter and brighter. To achieve a more flowing, balanced home, one in which a person feels good about entering and living in, is the goal.
The basic principles of great design, indeed those especially prerequisite for small spaces, are consistency, definition of space, proportion and balance and the creation of destination/focal points. Put all together, like the pieces of a puzzle, you will achieve a comfortable home that exhibits functional and aesthetic appeal.
1. Use glass block or sandblasted glass walls, instead of complete sheetrock ones, to provide translucent lightness to a room division. In addition, the glass block will allow the light to come through while precluding an unattractive view if it faces the alley or another building.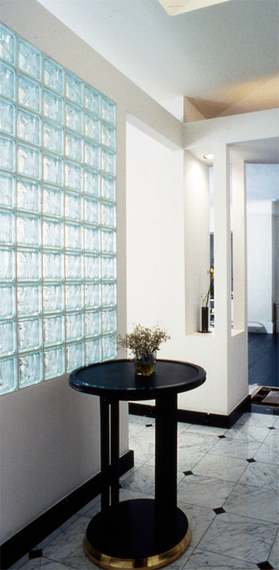 2. Paint the ceiling of a long, narrow space a darker color than the two contiguous walls, thus giving the illusion that the space is wider than it is.
3. Install a bold and chic kitchen backsplash for added interest and functionality. It needs to be at least 18″ from the top of the counter to the underside of the cabinet.
READ MORE HERE