Just because you have a tiny laundry room, that doesn't mean you need to give up on figuring out some smart storage solutions. With a little creativity, you can create space for everything you need and then some.
Here are some of our favorite tiny laundry room storage hacks:
Wall Storage for Laundry Supplies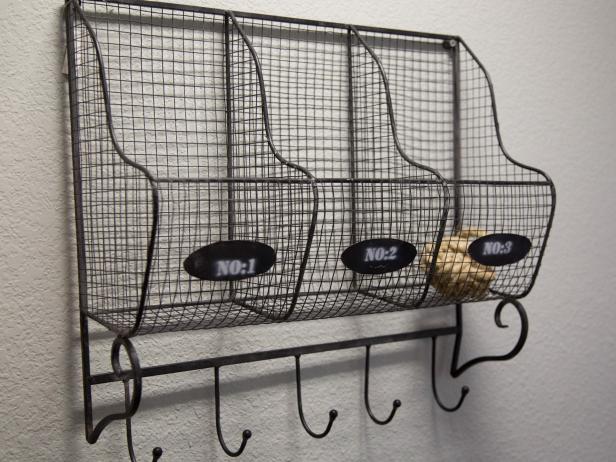 The key to success in a small laundry room is using every available space you can. This means that you might have to ditch your dreams of hanging cool artwork on the wall and instead think about how you could best use that space to keep some necessities.
A hanging wire storage rack would work great for storing detergent, dryer sheets or orphan socks that need to find their mates. The hooks are a great option for hanging lingerie or other smaller items to dry.
Hang a Drying Rack From the Ceiling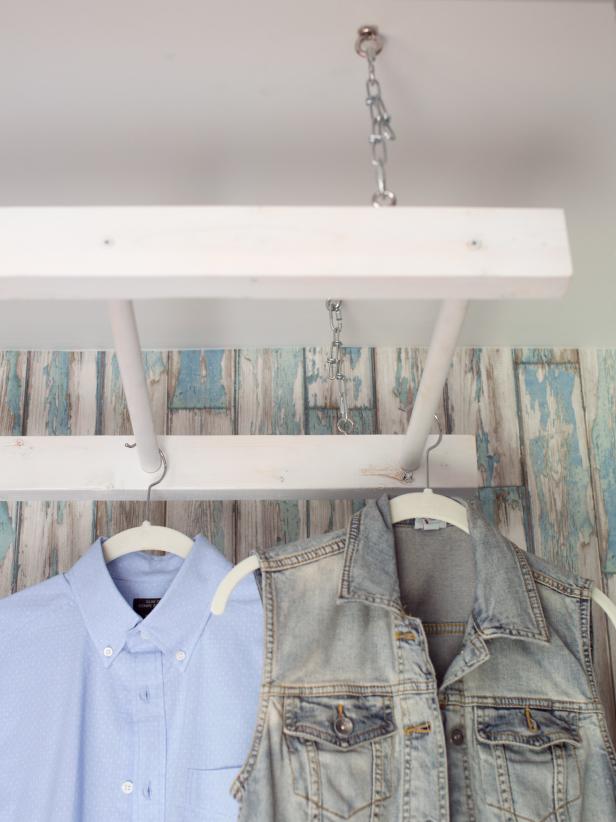 Now that you've utilized all the wall space you can, it's time to look up at the ceiling! This is another often overlooked spot in a tiny laundry room that could work well for something like a drying rack.
This simple ladder-like drying rack is hung from the ceiling with chains and serves as a great spot to hang items to dry or clothing that has been pressed. If you hand-wash a lot of your clothing or have delicate items that you don't put in the dryer, a hanging rack is a smart investment for you.
Add Shelving to Unused Corners
Unused corners in your laundry room are a great spot to think about adding some shelving. There are so many wall shelf options these days, so you can almost always find something to fit perfectly in your own space. They're a great spot to keep detergent, other cleaning supplies and lighter items.
Put Supplies in Baskets + Storage Containers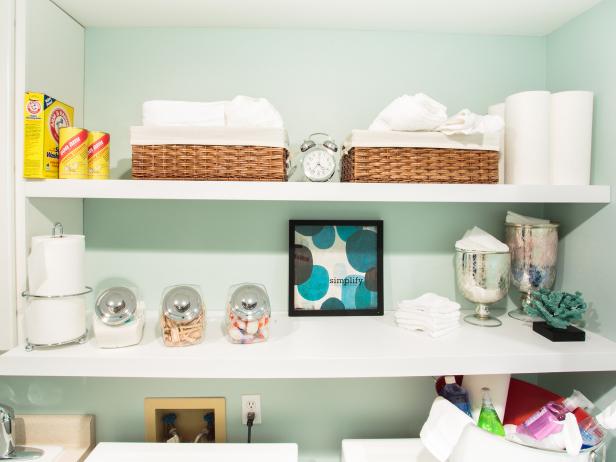 Once you have some shelves, try to get ahead of the mess by wrangling up all of your laundry supplies in baskets, jars and other storage containers. If you're a collector of vintage items, this is a great spot to show off some of your finds. Old apothecary jars, candy jars or even old vases would work great for storage solutions.
If you'd like things to look a bit more orderly, you can use one single type of basket or jar for all of your supplies. Even if your laundry room is in an unseen corner of your home, you'll enjoy doing laundry much more if your space is looking neat and pulled together.
Use Curtains to Separate Your Space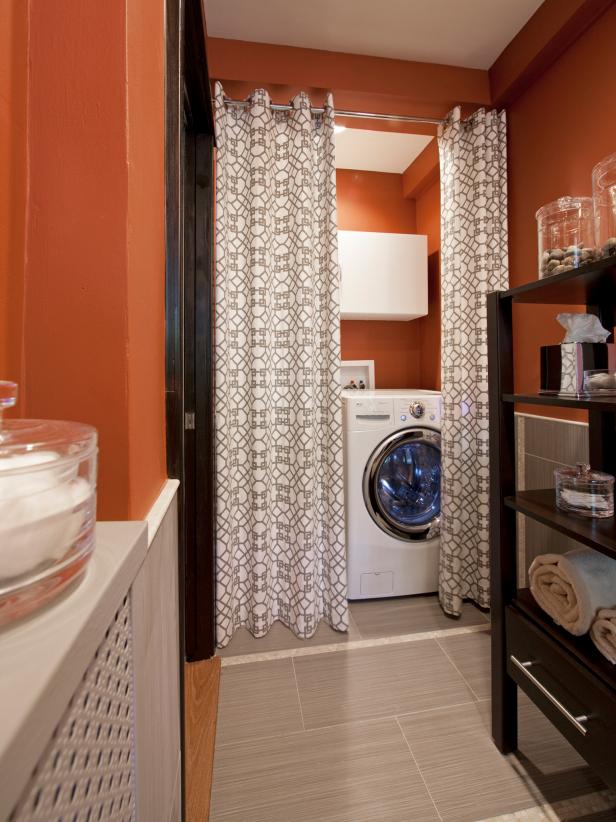 If you don't have a door on your laundry room but would like to separate the space, consider using a simple curtain rod and curtains. This is a great option if your washer/dryer is somewhere more visible in your home. While curtains won't provide any sound protection, it's a perfect solution for hiding your washer/dryer.
A tension rod is a perfect choice for a small space.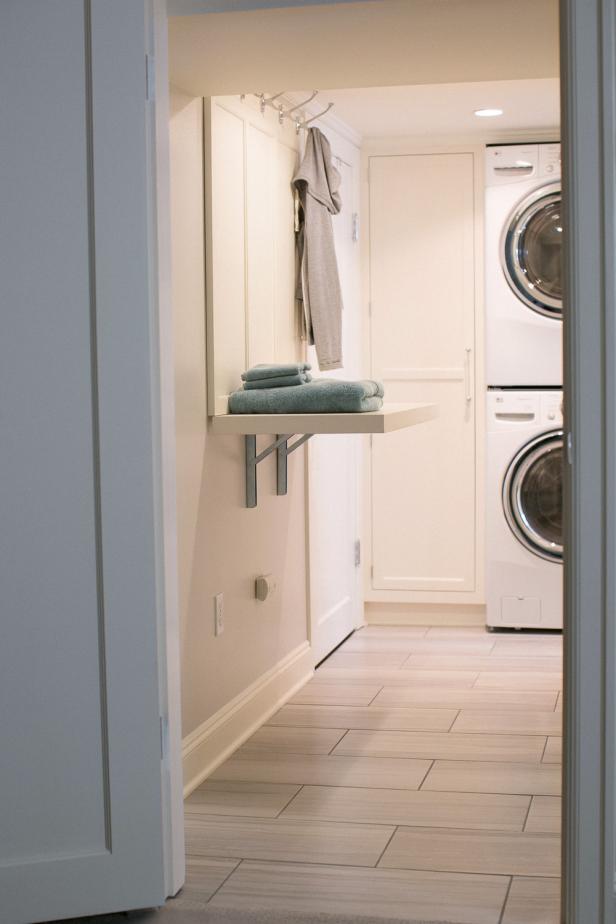 Even in a tiny space, you might have some room to create a folding station. This is a good option for a family that does a lot of laundry and needs a bit of room to spread out.
Consider mounting a small piece of a counter onto your wall and using that for folding. If you're handy, you might even be able to create a solution that can fold down and back up when not in use to save a bit more space.
Use Pedestal Drawers Under Your Washer/Dryer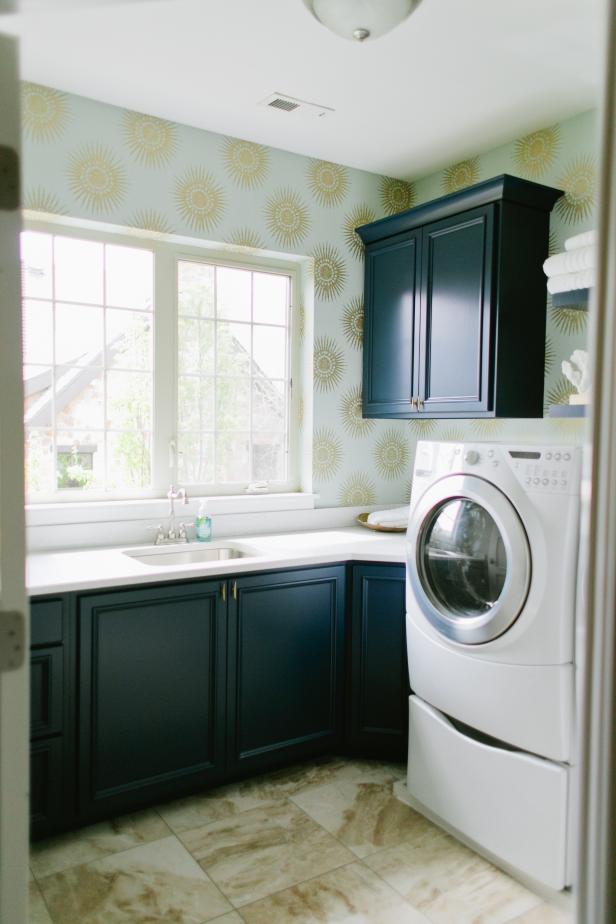 One of my favorite tiny laundry room hacks is using pedestal drawers under your washer/dryer units. These are basically drawers that fit perfectly under your washer or dryer. While this is not an option for every washer/dryer model, many of the newer units offer this additional add-on.
The nice thing about these pedestal drawers is that they also raise up your units, making them easy to access. Many of the drawers feature sectioned storage areas that allow you to fit in a good amount of detergent, dryer sheets and other laundry supplies.
If you're buying new washer/dryers, make sure to ask if pedestals are available. And if you have existing washer/dryers that you'd like to retro-fit with pedestals, contact your manufacturer to see if they offer that option.
Use a Bookshelf for Storage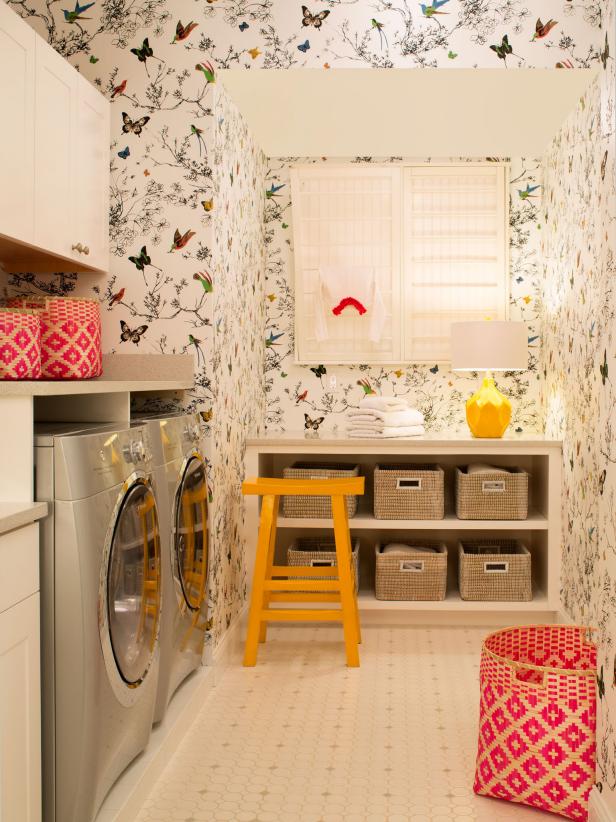 Don't be afraid to make use of furniture and items from other parts of your home in your laundry room, especially if you have an odd corner or wall. This bookshelf was certainly not intended to be used in a laundry room, but it fits perfectly in the space and provides some much-needed storage space for sorting baskets.
You might have some extra furniture in your attic or garage that would work well in your tiny laundry room, too. Think of small bookshelves from kids rooms, side tables, storage cubes or any other items that might help wrangle the supplies in your space.
This small bookshelf would be a great option.
Don't Forget About Your Doors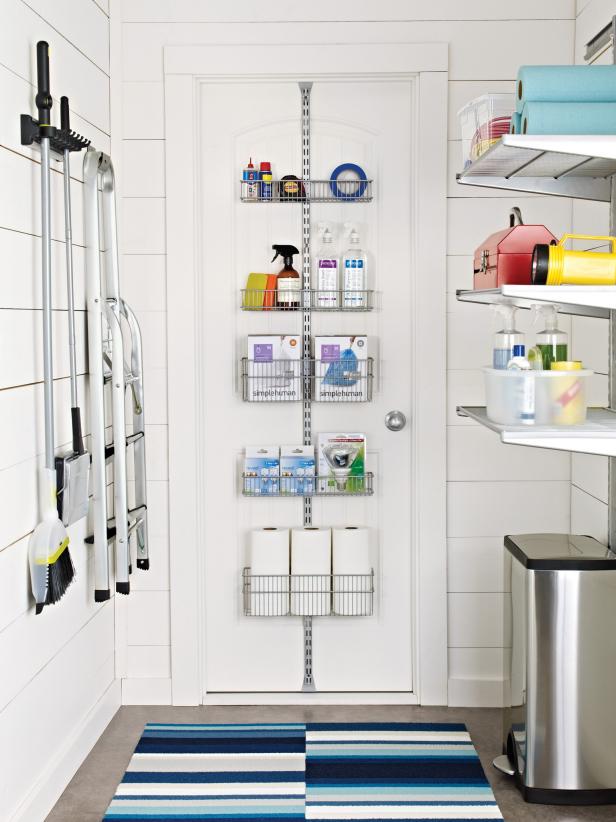 Another overlooked storage spot is the back of the doors in your laundry room. Look for storage solutions that were designed for closets as a starting point. While the unit in the photo above works great for supplies, you could also use things like over-the-door shoe storage for small supplies. Even simple hooks mounted on the door would provide some additional space to hang laundry bags or hangers for drying delicate items.
Add Baskets to Your Cabinets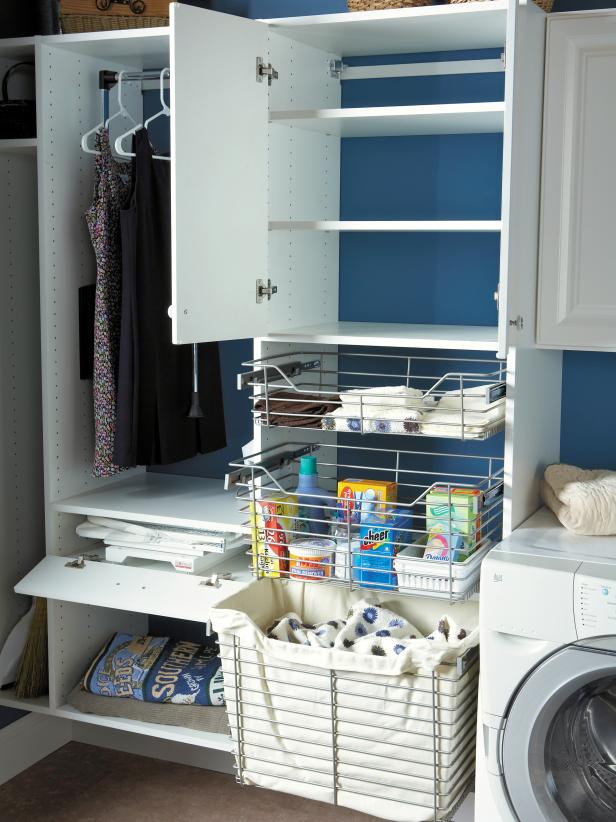 If you're lucky enough to already have some cabinets in your tiny laundry room, consider upgrading them by adding some pull-out drawers or baskets to store supplies.
Oftentimes, the existing shelving in cabinets doesn't make the best use of your space. However, by retro-fitting them with some additional storage, you could seriously amp up the storage options in your laundry room. These drawers and baskets are often used for kitchen cabinets, but I think they're a perfect option for laundry rooms.
If you don't have cabinets, try using a freestanding drawer unit.

By:

 Erica Reitman  HGTV Blog